I knew that my Christmas Eve in Japan was going to be different but I really didn't expect to be spending it ironing shirts for Marty. We are in the process of moving to our new apartment and we need to be completely moved by tomorrow. So instead of spending tonight wrapping presents, as I do every year, I'm going to be spending most of it packing bags. I also needed to iron shirts because Marty's non-iron shirts came out of the dryer so wrinkled he thought that they had shrunk about two sizes. The dryer in this apartment is the most inefficient dryer I have ever come across – it takes around 3 hours to dry a shirt. The washing machine isn't much better with the shortest wash taking over two hours! But at least I have a washer and dryer; tomorrow I won't have anything like that. In fact the only thing in our new apartment is a bed.
Our sea freight hasn't arrived yet and we have started to order things for our new apartment, but so far only the bed has arrived.
I will be glad to move away from Roppongi Hills. Tonight I had hoped to go to my favourite restaurant but instead we had take away pizza from Dominos. There are tens of thousands of people out on the streets as we are living in a tourist attraction and tonight there were free open air Christmas concerts. Getting back to the apartment this evening was a nightmare. I had to wait for four changes of the crossing lights before I could cross the road because of the length of the human traffic jams outside.
Anyway – it's still Christmas and Marty did get to have his picture taken with Santa. Merry Christmas!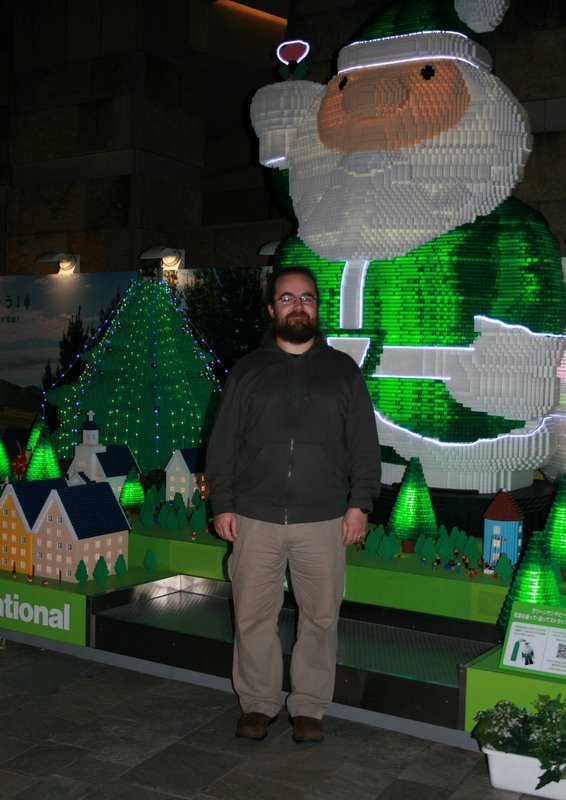 One Response to "And So This Is Christmas"
Casey West Says:
January 25th, 2007 at 4:10 pm

Stay strong Karen!

I'm happy you've moved away from tourist hell.